ESCÁNER THEMIS TS-150 y TS-250
Solución de escaneado inalámbrica de alto rendimiento
Los escáners portátiles inalámbricos RF de Themis TS-150 (1 D) y de TS-250 (2D) están diseñados para un uso diario, cuando se exige flexibilidad. Están equipados con una tecnología de escaneado y de detección del movimiento avanzada, que ofrece un gran rendimiento en el escaneado de los códigos de barras 1D y 2D. Esto incluye símbolos inversos y DPM.
Utilizar la tecnología de transmisión «RF», trabajar con une rango de hasta 200 metros es posible. La transmisión RF ofrece 2 tipos de topologías; la topología de «Punto de coordinación» y de «Coordinación distribuida». Esto permite el uso de hasta 2000 unidades para trabajar en el mismo entorno. Las carcasas con un diseño ergonómico y robusto convierten el escáner portátil en el dispositivo ideal para una amplia gama de aplicaciones de empresa con el fin de mejorar la productividad y de minimizar los errores de entrada de datos en el comercio minorista, en la hostería, en la fabricación, etc.
Sensor de imagen de gran rendimiento para prestaciones de escaneo avanzadas

Escaneo omni-direccional (2D)

Función de autodetección para el escaneo en modo de presentación

Lectura de código de barras de los displays (2D)

Bluetooth V2.1 + EDR, clase 2 está disponible de manera opcional

DPM código de barras legible (TS-250)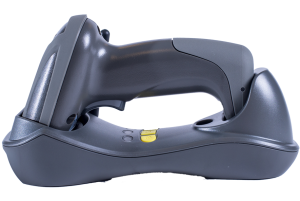 Bluetooth

USB, PS/2, RS-232 interfaz seleccionable
Item

TS-150

TS-250

Dimensions
170mm (W) x 83mm (D) x 70mm (H)
Weight
201g
222g
Input Voltage
4.75V – 6.5V DC
Power Requirement
Operating: 90mA
Transmitting:150mA
Standby: 12mA
Operating: 230mA
Transmitting: 160mA
Standby: 20mA
Radio Transmission

RF 430.5 ~ 432.0MHz, 433.05 ~ 434.79MHz
2.4GHz Bluetooth Class II (V2.1 EDR) (option)
Working Range
Up to 200m (open air)
Environment
                             Operating:                   Storage:
Temperature:           0°C ~ +50°C             -40°C ~ +60°C
Humidity:                5% ~ 95%                    5% ~ 95%
Drop Resistance
Multiple 1.5m drops to concrete
IP-Class
IP52
Barcode Types
All major 1D and GS1 DataBar
All major 1D, GS1 DataBar, 2D, DPM
Scan Rate
200 scans/sec.
752 x 480 pixel area image
60 frames/sec.
Reading Indicator
Beeper, LED
Scanning Angle
± 60°, ± 65°, ± 42°
(skew, pitch, roll)
± 60°, ± 40°, ± 360°
(skew, pitch, roll)
Depth of Field
5 mil
40-110mm
10 mil
10-280mm
13 mil
15-315mm
16 mil
25-385mm
35 mil
145-630mm
3.5 mil Code 128 (9 char.)
15-35mm
5 mil Code 39 (20 char.)
8-55mm
13 mil UPC (12 char.)
7-165mm
20 mil Code 39 (5 char.)
35-210mm
6.7 mil PDF 417 (20 char.)
0-75mm
10 mil DM (20 char.)
0-115mm
20 mil QR (20.char)
0-195mm
Light Source
650nm visible laser diode
Battery
Rechargeable Lithium-ion battery 1400mAh
Charge Time
Fully charged (> 80%) 3.5 hours
Working Time
21 hours
29 hours
Standby Time
Over 7 days
Certification
CE, LVD
Options
USB, PS/2, RS-232 interface selectable, Bluetooth
Accessories
Cradle
Color
Gray
Item

Cradle

Dimensions
97mm (W) x 75mm (D) x 213mm (H)
Weight
189g (w/o cable)
Environment
                               Operating:                   Storage:
Temperature:        0°C ~ +50°C             -40°C ~ +60°C
Humidity:               5% ~ 95%                    5% ~ 95%
Drop Resistance
multiple 1.2m drops to concrete
Interface / Cable
RS-232 / 2m straight
USB / 1.5m straight
PS/2 / 2m straight
Input Voltage
DC + 5V ± 0.25V
*Specifcation is subject of change without prior notice.