THEMIS SCANNER TS-150 and TS-250
Drahtlose Hochleistungs-Scanner-Lösung
Die schnurlosen RF-Handscanner TS-150 (1D) und TS-250 (2D) von Themis sind für den täglichen Gebrauch konzipiert, wenn Flexibilität gefragt ist. Sie sind mit fortschrittlicher Scannertechnologie und Bewegungssensoren ausgestattet und bieten hohe Leistung beim Scannen von gängigen 1D- und 2D-Barcodes. Das schließt auch inverse und DPM-Symbole ein.
Durch die Nutzung von RF-Übertragungstechnologie sind Reichweiten für den Betrieb von bis zu 200 Meter möglich. Die RF-Übertragung bietet zwei Typen von Topologien: Die "Punkt-Koordination" und die "Verteilte Koordination". Das ermöglicht den Betrieb von bis zu 2000 Einheiten im selben Umfeld. Das ergonomische und robust hergestellte Gehäuse macht den Hand-Scanner ideal für eine breite Palette von Geschäfts-Anwendungen, um im Handel, Gastgewerbe, Fertigung usw. die Produktivität zu verbessern und Fehler in der Dateneingabe zu minimieren.
Leistungsfähige Bildsensoren für fortschrittlichen Scanner-Durchsatz

Omnidirektionales Scannen (2D)

Automatische Bewegungserfassung für das Scannen im Präsentations-Modus

Barcode-Erfassung von Displays (2D)

Bluetooth V2.1 + EDR, class2 optional verfügbar

DPM-Barcode lesbar (TS-250)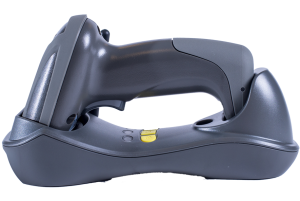 Bluetooth

USB-, PS/2-, RS-232-Anschlüsse wählbar
Item

TS-150

TS-250

Dimensions
170mm (W) x 83mm (D) x 70mm (H)
Weight
201g
222g
Input Voltage
4.75V – 6.5V DC
Power Requirement
Operating: 90mA
Transmitting:150mA
Standby: 12mA
Operating: 230mA
Transmitting: 160mA
Standby: 20mA
Radio Transmission

RF 430.5 ~ 432.0MHz, 433.05 ~ 434.79MHz
2.4GHz Bluetooth Class II (V2.1 EDR) (option)
Working Range
Up to 200m (open air)
Environment
                             Operating:                   Storage:
Temperature:           0°C ~ +50°C             -40°C ~ +60°C
Humidity:                5% ~ 95%                    5% ~ 95%
Drop Resistance
Multiple 1.5m drops to concrete
IP-Class
IP52
Barcode Types
All major 1D and GS1 DataBar
All major 1D, GS1 DataBar, 2D, DPM
Scan Rate
200 scans/sec.
752 x 480 pixel area image
60 frames/sec.
Reading Indicator
Beeper, LED
Scanning Angle
± 60°, ± 65°, ± 42°
(skew, pitch, roll)
± 60°, ± 40°, ± 360°
(skew, pitch, roll)
Depth of Field
5 mil
40-110mm
10 mil
10-280mm
13 mil
15-315mm
16 mil
25-385mm
35 mil
145-630mm
3.5 mil Code 128 (9 char.)
15-35mm
5 mil Code 39 (20 char.)
8-55mm
13 mil UPC (12 char.)
7-165mm
20 mil Code 39 (5 char.)
35-210mm
6.7 mil PDF 417 (20 char.)
0-75mm
10 mil DM (20 char.)
0-115mm
20 mil QR (20.char)
0-195mm
Light Source
650nm visible laser diode
Battery
Rechargeable Lithium-ion battery 1400mAh
Charge Time
Fully charged (> 80%) 3.5 hours
Working Time
21 hours
29 hours
Standby Time
Over 7 days
Certification
CE, LVD
Options
USB, PS/2, RS-232 interface selectable, Bluetooth
Accessories
Cradle
Color
Gray
Item

Cradle

Dimensions
97mm (W) x 75mm (D) x 213mm (H)
Weight
189g (w/o cable)
Environment
                               Operating:                   Storage:
Temperature:        0°C ~ +50°C             -40°C ~ +60°C
Humidity:               5% ~ 95%                    5% ~ 95%
Drop Resistance
multiple 1.2m drops to concrete
Interface / Cable
RS-232 / 2m straight
USB / 1.5m straight
PS/2 / 2m straight
Input Voltage
DC + 5V ± 0.25V
*Specifcation is subject of change without prior notice.