SCANNERS THEMIS TS-150 et TS-250
Scanners sans fils très performant
Les scanners sans fil, FR, portables, TS-150 (1D) et TS-250 (2D) sont conçus pour un emploi quotidien et pour répondre à une demande en flexibilité. Ils sont dotés de la technologie de balayage de pointe et de détection de mouvement qui offrent des performances puissantes dans le balayage des codes-barres populaires en 1D et 2D. Elle inclut aussi le défilement inverse et le symbole DPM.
Comme ils fonctionnent avec la technologie de transmission << FR >> il est possible de travailler jusqu'à 200 mètres. La transmission FR offre 2 types de topologies : celle de << coordination de point >> et celle de << coordination distribuée >>. Ce qui permet d'utiliser jusqu'à 2000 unités pour travailler dans un même environnement. Le boitier de conception ergonomique et robuste fait du scanner portable l'outil idéal d'une grande gamme d'applications commerciales en améliorant la productivité et en réduisant les erreurs de saisie des données dans le commerce, l'hôtellerie, la fabrication etc.
Capteur d'image performant pour une rendement de balayage de pointe

Balayage dans toutes les directions (2D)

Fonction de détection automatique pour un balayage en mode présentation

Lecture du code-barres en (2D) à partir des écrans

Bluetooth V2.1 + EDR, classe 2 disponible en option

Lecture code-barres DPM possible (TS-250)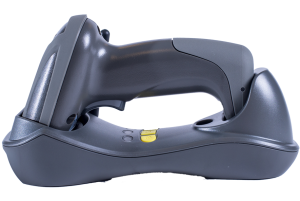 Bluetooth

Interfaces au choix USB, PS/2, RS-232
Item

TS-150

TS-250

Dimensions
170mm (W) x 83mm (D) x 70mm (H)
Weight
201g
222g
Input Voltage
4.75V – 6.5V DC
Power Requirement
Operating: 90mA
Transmitting:150mA
Standby: 12mA
Operating: 230mA
Transmitting: 160mA
Standby: 20mA
Radio Transmission

RF 430.5 ~ 432.0MHz, 433.05 ~ 434.79MHz
2.4GHz Bluetooth Class II (V2.1 EDR) (option)
Working Range
Up to 200m (open air)
Environment
                             Operating:                   Storage:
Temperature:           0°C ~ +50°C             -40°C ~ +60°C
Humidity:                5% ~ 95%                    5% ~ 95%
Drop Resistance
Multiple 1.5m drops to concrete
IP-Class
IP52
Barcode Types
All major 1D and GS1 DataBar
All major 1D, GS1 DataBar, 2D, DPM
Scan Rate
200 scans/sec.
752 x 480 pixel area image
60 frames/sec.
Reading Indicator
Beeper, LED
Scanning Angle
± 60°, ± 65°, ± 42°
(skew, pitch, roll)
± 60°, ± 40°, ± 360°
(skew, pitch, roll)
Depth of Field
5 mil
40-110mm
10 mil
10-280mm
13 mil
15-315mm
16 mil
25-385mm
35 mil
145-630mm
3.5 mil Code 128 (9 char.)
15-35mm
5 mil Code 39 (20 char.)
8-55mm
13 mil UPC (12 char.)
7-165mm
20 mil Code 39 (5 char.)
35-210mm
6.7 mil PDF 417 (20 char.)
0-75mm
10 mil DM (20 char.)
0-115mm
20 mil QR (20.char)
0-195mm
Light Source
650nm visible laser diode
Battery
Rechargeable Lithium-ion battery 1400mAh
Charge Time
Fully charged (> 80%) 3.5 hours
Working Time
21 hours
29 hours
Standby Time
Over 7 days
Certification
CE, LVD
Options
USB, PS/2, RS-232 interface selectable, Bluetooth
Accessories
Cradle
Color
Gray
Item

Cradle

Dimensions
97mm (W) x 75mm (D) x 213mm (H)
Weight
189g (w/o cable)
Environment
                               Operating:                   Storage:
Temperature:        0°C ~ +50°C             -40°C ~ +60°C
Humidity:               5% ~ 95%                    5% ~ 95%
Drop Resistance
multiple 1.2m drops to concrete
Interface / Cable
RS-232 / 2m straight
USB / 1.5m straight
PS/2 / 2m straight
Input Voltage
DC + 5V ± 0.25V
*Specifcation is subject of change without prior notice.