THEMIS SCANNER TS-150 and TS-250
High performance wireless scanning solution
Themis cordless RF handheld scanner TS-150 (1D) and TS-250 (2D) are designed for everyday use, when flexibility is demanded. They are equipped with advanced scanning and motion sensing technology, featuring powerful performance in scanning all popular 1D and 2D barcodes. This includes inverse and DPM symbol as well.
Utilizing "RF" transmission technology, working range of up to 200 meter is possible. The RF transmission offers 2 kind of topologies; the "Point Coordination" and "Distributed Coordination" topology. This allows the use of up to 2000 units to work in the same environment. The ergonomically and rugged designed housing make the handheld scanner ideal for a wide range of business applications to improve productivity and minimizing data entry errors in retail, hospitality, manufacturing and more.
Powerful image sensor for advanced scanning performance

Omni-directional scanning (2D)

Auto. detect function for presentation-modus scanning

Barcode reading from displays (2D)

Bluetooth V2.1 + EDR, class2 is optional available

DPM barcode readable (TS-250)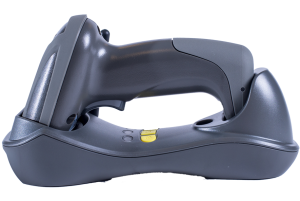 Bluetooth

USB, PS/2, RS-232 interface selectable
Item

TS-150

TS-250

Dimensions
170mm (W) x 83mm (D) x 70mm (H)
Weight
201g
222g
Input Voltage
4.75V – 6.5V DC
Power Requirement
Operating: 90mA
Transmitting:150mA
Standby: 12mA
Operating: 230mA
Transmitting: 160mA
Standby: 20mA
Radio Transmission

RF 430.5 ~ 432.0MHz, 433.05 ~ 434.79MHz
2.4GHz Bluetooth Class II (V2.1 EDR) (option)
Working Range
Up to 200m (open air)
Environment
                             Operating:                   Storage:
Temperature:           0°C ~ +50°C             -40°C ~ +60°C
Humidity:                5% ~ 95%                    5% ~ 95%
Drop Resistance
Multiple 1.5m drops to concrete
IP-Class
IP52
Barcode Types
All major 1D and GS1 DataBar
All major 1D, GS1 DataBar, 2D, DPM
Scan Rate
200 scans/sec.
752 x 480 pixel area image
60 frames/sec.
Reading Indicator
Beeper, LED
Scanning Angle
± 60°, ± 65°, ± 42°
(skew, pitch, roll)
± 60°, ± 40°, ± 360°
(skew, pitch, roll)
Depth of Field
5 mil
40-110mm
10 mil
10-280mm
13 mil
15-315mm
16 mil
25-385mm
35 mil
145-630mm
3.5 mil Code 128 (9 char.)
15-35mm
5 mil Code 39 (20 char.)
8-55mm
13 mil UPC (12 char.)
7-165mm
20 mil Code 39 (5 char.)
35-210mm
6.7 mil PDF 417 (20 char.)
0-75mm
10 mil DM (20 char.)
0-115mm
20 mil QR (20.char)
0-195mm
Light Source
650nm visible laser diode
Battery
Rechargeable Lithium-ion battery 1400mAh
Charge Time
Fully charged (> 80%) 3.5 hours
Working Time
21 hours
29 hours
Standby Time
Over 7 days
Certification
CE, LVD
Options
USB, PS/2, RS-232 interface selectable, Bluetooth
Accessories
Cradle
Color
Gray
Item

Cradle

Dimensions
97mm (W) x 75mm (D) x 213mm (H)
Weight
189g (w/o cable)
Environment
                               Operating:                   Storage:
Temperature:        0°C ~ +50°C             -40°C ~ +60°C
Humidity:               5% ~ 95%                    5% ~ 95%
Drop Resistance
multiple 1.2m drops to concrete
Interface / Cable
RS-232 / 2m straight
USB / 1.5m straight
PS/2 / 2m straight
Input Voltage
DC + 5V ± 0.25V
*Specifcation is subject of change without prior notice.
Media