Themis Note Manager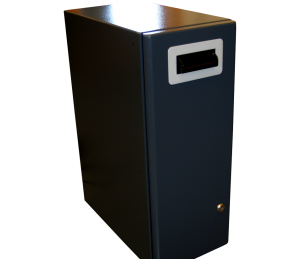 Themis Coin Manager
Themis Coin Overflow Manager
Each of the modules has various sensors to make sure that all doors are properly locked and all plug-in units/cassettes are correctly positioned in place.
The safe operation of the Themis Cash Management System has been tested by the authorized certification body of the European Central Bank. These test procedures insure, that no counterfeit banknotes or coins will be accepted by the Themis Cash Management Solution.
The Themis Cash Management Solution consists of a Themis Note Manager Module and a Themis Coin Manager Module. To handle "coin overflow" in case of too many coins are in the hopper, a Themis Coin Overflow Manager Module (cabinet) is available and takes care. The Themis Coin Manager initiates and handles the coin overflow situation. The Themis Coin Overflow Manager is not necessarily required to operate the system.
Both, the Themis Note Manager and the Themis Coin Manager are actually independent systems. This allows a modular and flexible way of installing the cash management system in the POS environment. In today's checkout design requirements, to be modern and stylish, this is an interesting advantage.
The Themis Note Module offers the option to choose between a storage box of 500 or 1000 banknotes.
Improvement of Cash Handling in the POS Environment
The use of Themis Cash Management Solution provides "closed handling of cash" media at Point-Of-Sale and replaces manually operated cash drawers/boxes. All cash transactions are controlled by the Themis Cash Management System, be it customer payments or paid-in / paid-out operations by the staff. All transactions are electronically recorded and reported to the connected POS application via the interface.
By this, real-time monitoring of cash media is granted at any time. The store/shop management has a constant overview of the cash situation in the checkouts and can carry out pick-up operations whenever necessary.
For operators, starting or ending a shift becomes fast and efficient process without any time consuming cash operations such as loan functions or money counting at end of shift.
Money left in the system at end of a working day is securely stored and maintained in the system. Coins usually stay in the system, as well as a certain amount of banknotes remain in the recycler. This grants a fast start at the next working day.
By setting the parameters for coin levels, a complete coin recycling can be achieve, by controlling the paid-in and paid-out transactions. This means, that no more coins for change money are needed from the bank. This will reduce the cost for coin handling.
Similar parameters are available for the banknotes. These parameters control the number (value) of banknotes in the recycler, which will usually not picked-up at end of day.